The Inside Scoop: What Is a Brand Ambassador and How Do I Become One?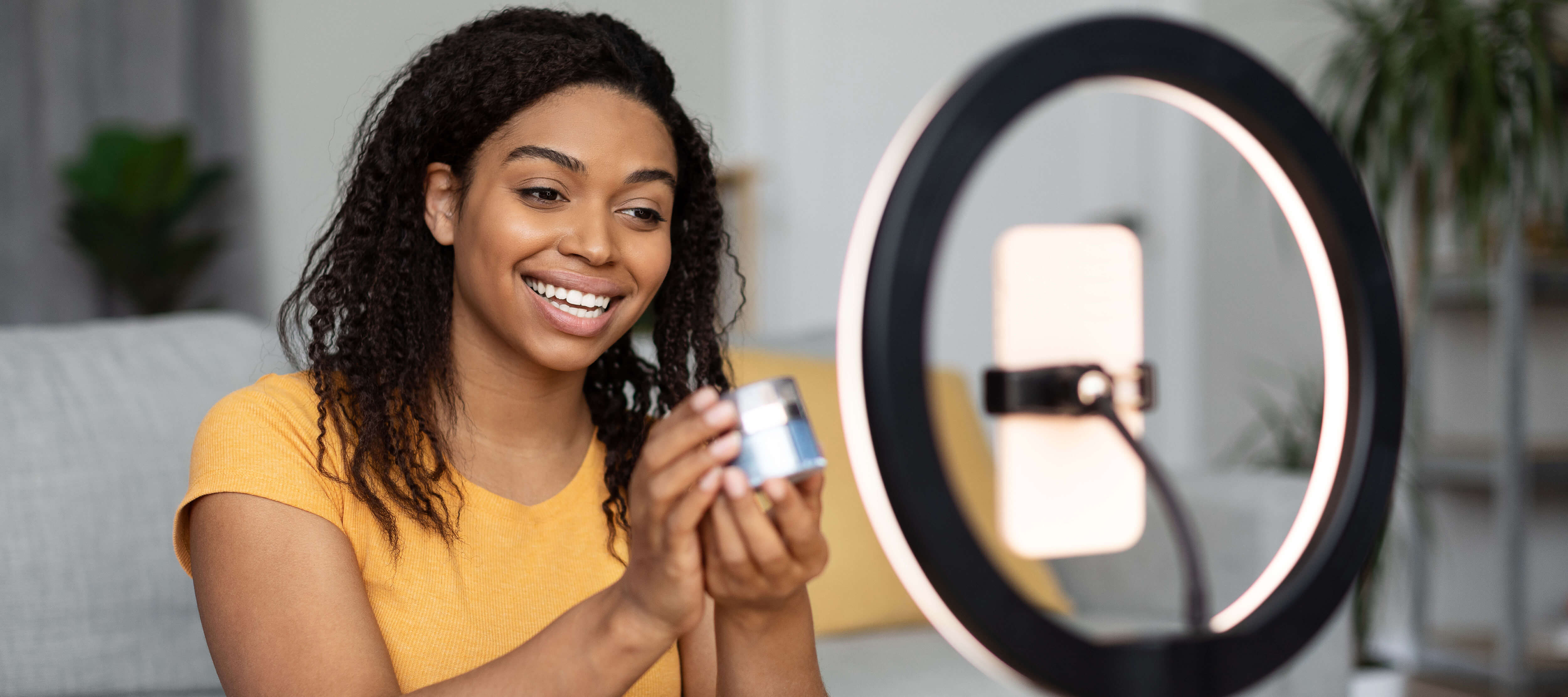 When you hear the term brand ambassador, what comes to mind? Celebrities sharing videos of themselves using facial products, showing you each product right before they apply it? Or is it that earthy, non-celebrity adventure-seeker you follow on social media who is endorsing a new waterproof backpack?
These days, it's both.
In fact, if you build up a decent social media following, you can be a brand ambassador, too.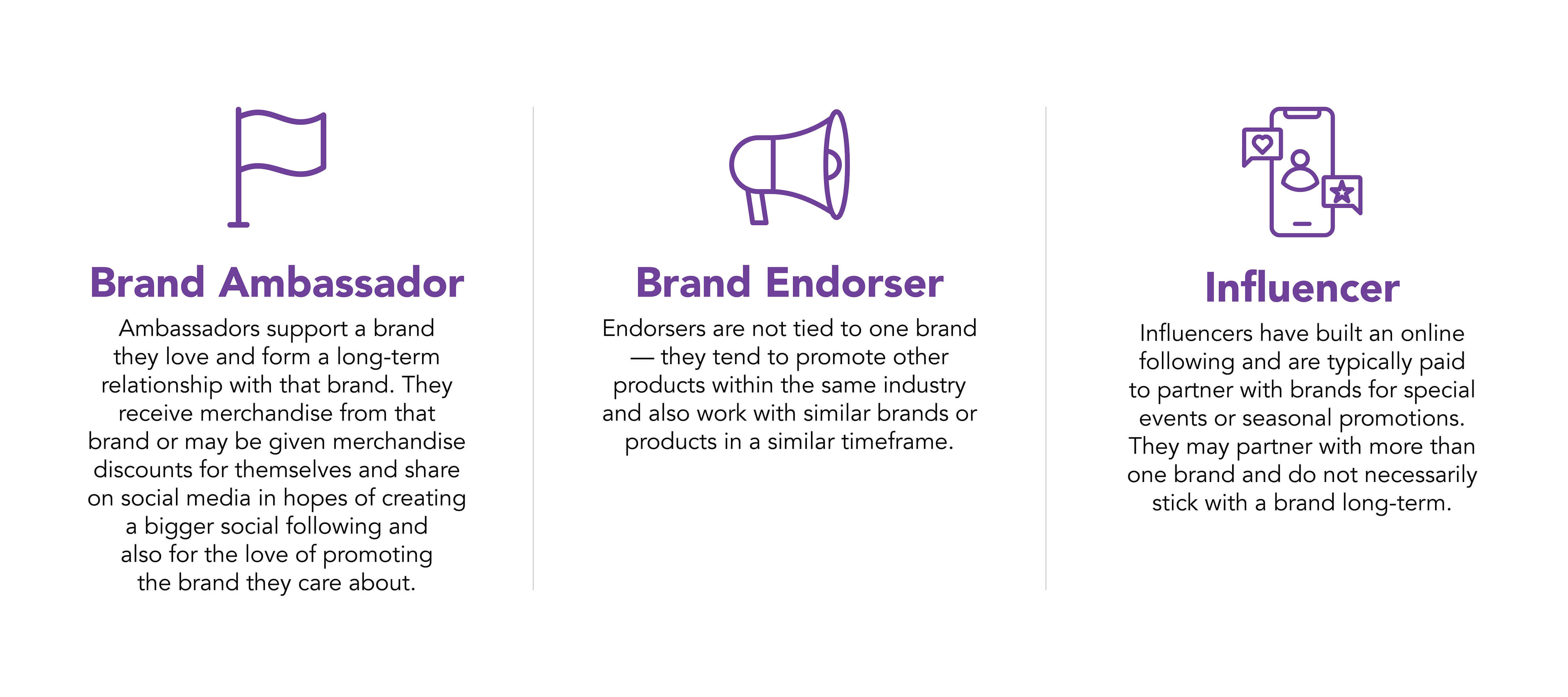 What are Brand Ambassadors?
A lot of companies have jumped on the bandwagon and are offering Brand Ambassador Programs — Coca-Cola, Glossier, Pura Vida, Lululemon, Canon, and Life Is Good — to name just a few. But there is a big difference between lil' ole you and me being a brand ambassador versus a big name or a celebrity. Take Ken Jeong's partnership with Cottonelle for example — I doubt Mr. Jeong is doing this for a lifetime supply of toilet paper.
So how does this work in the real world?
An individual reaches out to the company to become a brand ambassador.

That individual (now a brand ambassador) receives product and possibly a code from the company.

The ambassador creates a post asking their followers to check out the product using code BRAND2023, for example, and everyone who uses that code gets a discount.

The code is trackable, which is how the ambassador earns points, free merchandise, or in some cases, payment (although that tends to be not as common).
But most don't do it for the money. They do it for the swag.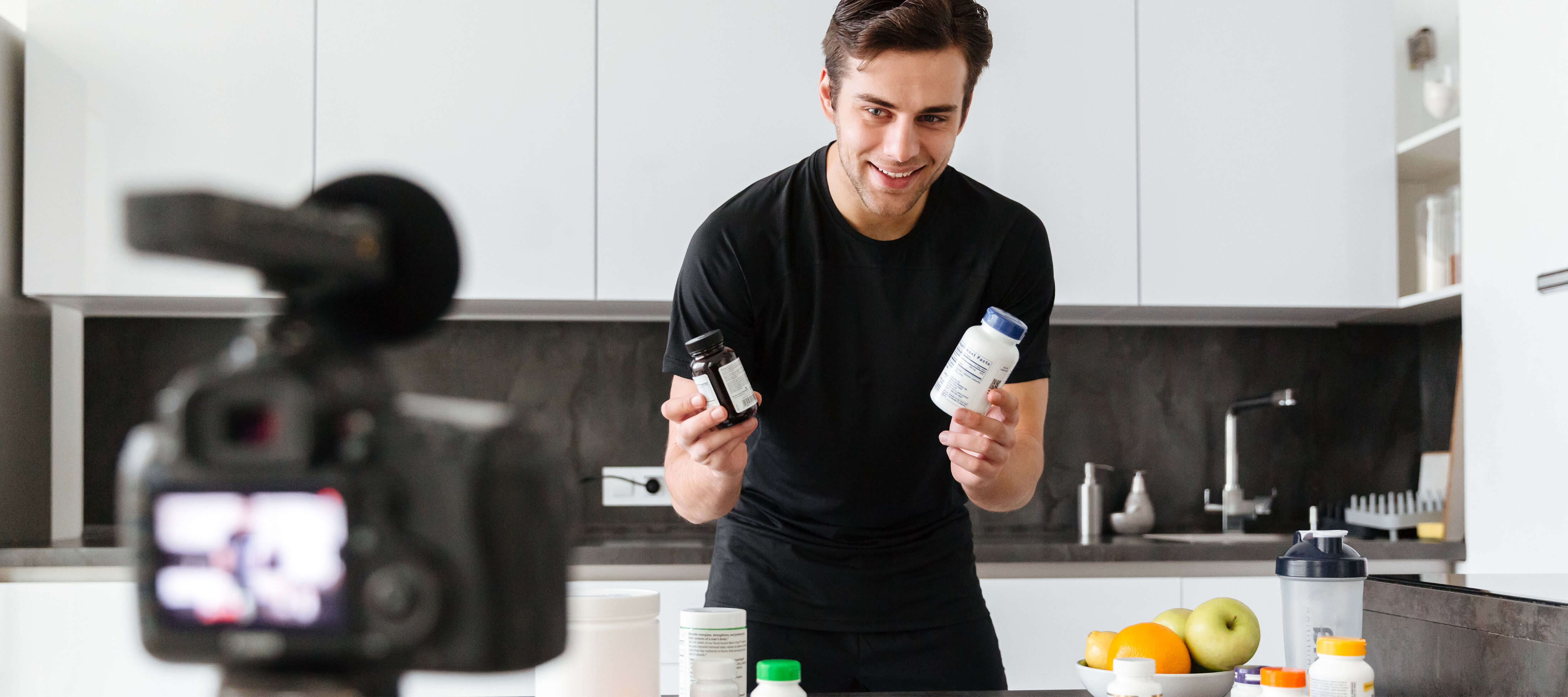 The Perks of Being a Brand Ambassador
We all have brands we are loyal to and share with our friends and family. I wanted to take that one step further and become a brand ambassador for Life is Good in my spare time because I love their products, their core values, and their involvement in The Playmaker Project.
So one weekend in the fall, I researched what it would take to become a brand ambassador for Life Is Good, and this is what that process looked like:
Filled out a simple online application — name, birthday, address, clothing size, and social media username, in addition to explaining why I would be a good fit as a #LIGBrandAmbassador.

Received an acceptance email within a week.

Received a welcome package after a month.
Receiving free merchandise from a company you like is a win-win, which is why most brand ambassadors do what they do. For Life is Good, I began in the fall, so I received seasonal merch, including a sweatshirt, winter hat, long-sleeve shirt, socks, mug, keychain, and a six-pack of stickers. In the spring I received a t-shirt, mug, hat, and travel pouch.
All. Free.
But it doesn't end with free merchandise.
When brand ambassadors receive their goodies they need to create quality content endorsing the product and post it on social media (in this instance I used #LIGBrandAmbassador). It's also important to update your bio to showcase your status as a brand ambassador.
And if you're looking for engagement and reactions, then being a brand ambassador can help. Brand ambassadors who create timely posts matching the company's overall brand message have a better chance of being featured on the brand's social media page.
Does that happen every time? Not necessarily.
Did it happen to me? You bet your brand ambassador it did.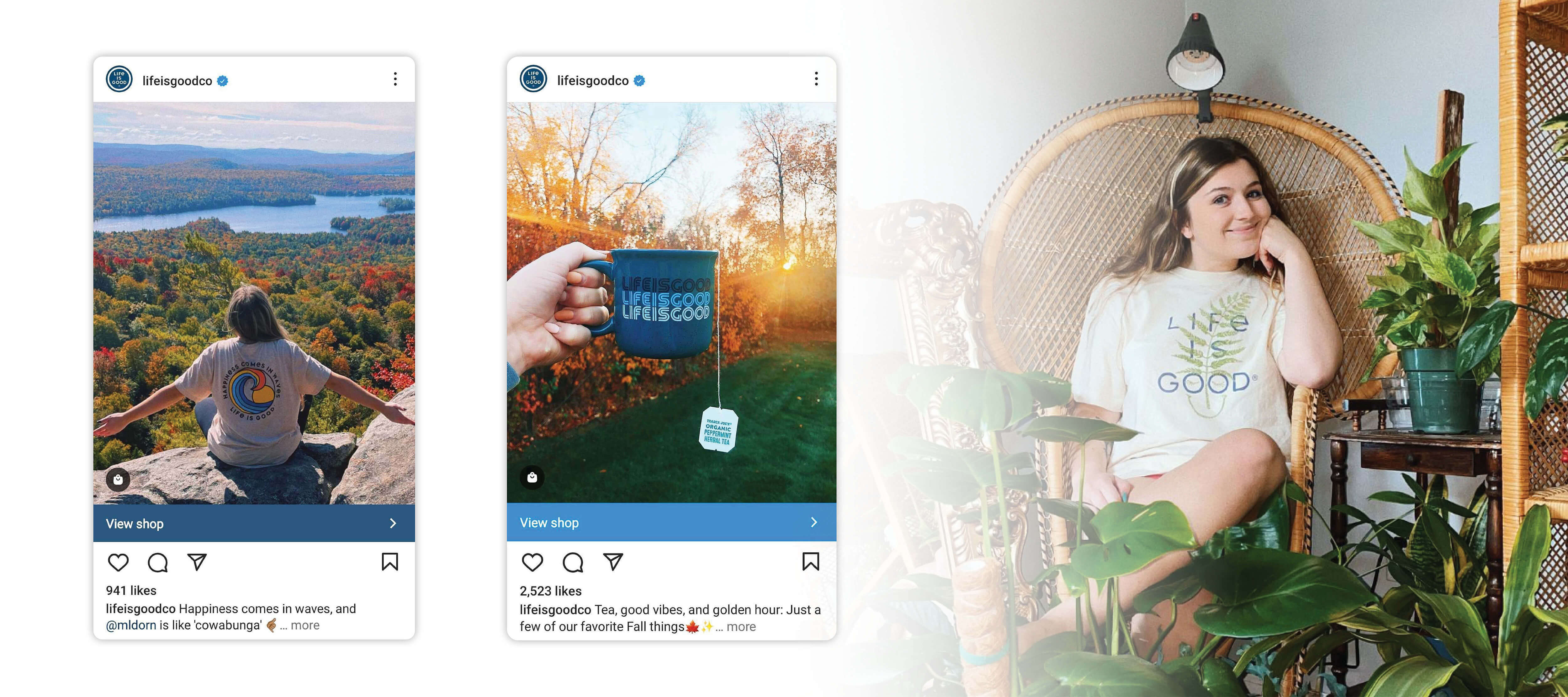 How Do Brand Ambassadors Help the Company or Brand?
Imagine this: You're scrolling through your favorite social media platform. A friend shares a post wearing an outfit you love. You have to have it. You read the caption to see what brand this is and learn you can receive 20% off with CODE20! You're clicking that link faster than you can say free shipping.
And guess what? You've been impacted by a brand ambassador, without a second thought, because the content came from someone you trust.
You can benefit from being a brand ambassador or make purchasing decisions based on brand ambassadors you follow. But what about the company? How does a company like Life Is Good benefit from giving away its merchandise and asking for shares and posts?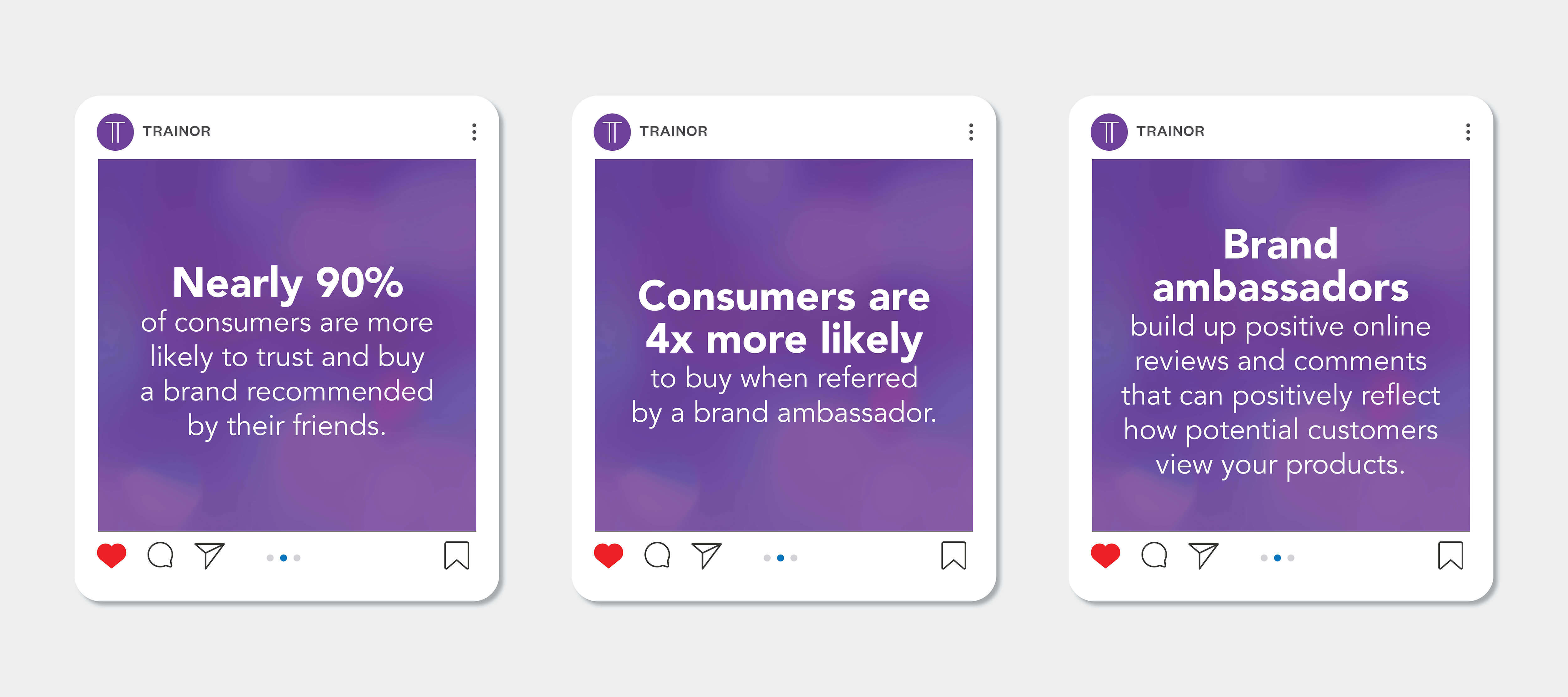 As it turns out, the benefits are pretty tangible. A brand ambassador program can:
Drive sales.

Boost

brand awareness.

Increase the brand's

social media presence

and following.
Utilizing brand ambassadors allow companies to reach broad organic audiences. In fact, nearly 90% of people trust recommendations from people they know versus an advertisement.
People you know and follow are becoming brand ambassadors to help promote themselves, a product, and a brand.
So, whether you are the consumer, the brand ambassador, or the company, you too can benefit from these programs!
Let's Collaborate
Have an idea for your brand? Looking to grow? TRAINOR is your brand ingenuity partner — contact us today to learn how we can help your brand innovate, increase engagement, and drive performance to the next level.
Marissa Dorn

As Digital Marketing Coordinator, Marissa stays up to date on all the trendy social media topics and enjoys creating Instagram and TikTok content, especially for traveling and plants. She is inspired by creators of all kinds and looks for environmental sustainability in every aspect of life. Outside the office, she enjoys nature activities and caring for her houseplants.