2021 Marketing Trends Year-End Wrap-Up

Emily Mertz
Digital Marketing Manager
8 Min Read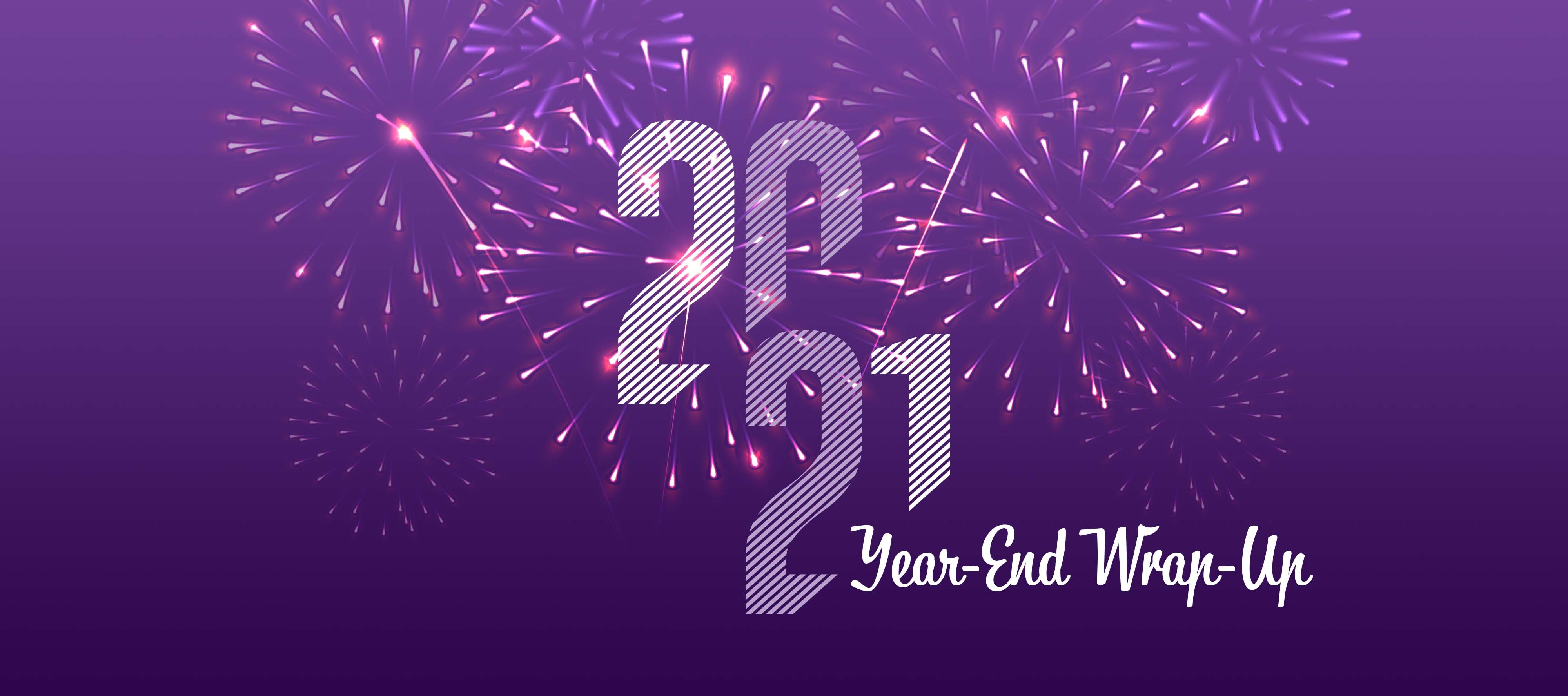 2021 was a whirlwind, and coming off of a very strange 2020, we noticed new trends forming across the marketing spectrum. Understanding trends from the past gives us the insight to make 2022 marketing predictions. With that said, we asked our TRAINOR team to discuss the marketing trends they noticed in their respective areas of expertise to wrap up and round out 2021!
So, without further ado - the trends.
We asked our Chief Operating Officer, Jonathan Trainor, and Chief Growth Officer, Morgen Irwin: How did strategy change in 2021?
Coming off the year COVID-19 took the world by surprise, strategy became more critical than ever for survival. 2020 was a year of reaction and pivoting, while 2021 allowed brands to re-focus and re-build, placing emphasis on a strong brand foundation.
This year, we saw brands develop a deeper understanding of their "WHY". Although it's important for a brand to be adaptable, authenticity is key – which means its identity should always be consistent and recognizable. The consistent presentation of a brand increases revenue by 33%, but in order for customers and external stakeholders to understand who you are and what you stand for, you must do the work internally. Having defined core values, a clear vision and mission, and precise messaging means your brand's story will be understood. Trying to launch a campaign without defining these is like driving to an unknown destination – you'll spend a lot of time and money trying to get there but in the end, you will arrive somewhere you didn't plan on. Doing the work to define your brand will lead you to a clear destination. We help clients navigate through this Discovery process which provides the building blocks for overall strategy and direction. Our team is ready to shape your brand, too!
We asked our Chief Technology Officer, Bob Annal: What's new and trending in the world of IT?
Apple finally released their long-awaited redesigns and updated internals to the Macbook Pro! The previous design, introduced in 2016, was fraught with keyboard and display issues, useless features like the 'touch bar', zero variety of ports, and an overall "form over function" mindset.
These new laptops bring back a better keyboard, the best display on the market, a removed 'touch bar', added ports like the Magsafe charger(!), HDMI, and SD card slots. Not to mention – industry-leading internals with their new M1 Pro and M1 Max Apple silicon systems on a chip, bringing unbelievable performance to the most demanding of workflows.
And something extra special for developers across the world – these new laptops bring back the "inverted T" design for the arrow keys. The previous key design was the bane to our existence these past five years, making it difficult to easily navigate via these keys.
Bob also commented on Web Dev (Website Development) trends. Bob said:
This year we really increased our usage of a top CSS framework called Tailwind. Tailwind is a "utility-first" framework, meaning instead of writing CSS for your HTML elements in order to style them, we use Tailwind classes in our HTML to define the styling. Even handling media queries for responsive layouts is handled using Tailwind utility classes right in the HTML. This increases productivity decreases the amount of code needed for a typical website and provides a solid baseline framework that is extremely scalable and customizable.
Content makes marketing go-'round, so of course, we asked our Chief Content Officer, Kyle Trainor, what his biggest 2021 takeaway was… making note of the hit Netflix Show, Squid Game!
GREEN LIGHT.
The Global Rise of Squid Game shines a bright light on Closed Captioning.
How did Squid Game become #1 on Netflix?
It was released simultaneously in 190 countries in 31 different subtitles (and 13 different dub-overs) – a first for Netflix, in several ways.
More than 111 million Netflix accounts across the world have viewed the series since its September debut.
This supports a growing trend: People are watching more videos with subtitles or closed captioning – and not just to jump over the language barrier.
One stat claims that 80% of viewers who watch with captions do so because they prefer captions.
It's a good refresh for any film, commercial, or piece of content we create: keep the story powerfully simple through its visuals AND dialogue. Whichever viewing option your audience chooses, get to the point and make it stick.
RED LIGHT.
Calling all social butterflies! We spoke to our team of Social Media experts, spearheaded by Director of Social, Brit Shew.
Paid advertising has become a necessity. Amongst the ever-changing digital landscape, social media algorithms don't always make it easy for your posts to reach a large audience, which means it's important to dedicate marketing dollars to paid advertising to guarantee you reach a larger number of people. Posting regularly on social media will enhance your paid strategy and ensure your brand is part of the conversation. Maintaining a strong organic presence is critical to proving relevancy and demonstrating authenticity, but a key differentiator to achieving broad market awareness is paid advertising.
Our Director of Search, Gabe Scarf, gave us the inside scoop on changes with Google Ads and what to expect in 2022.
Throughout the year, Google has made necessary changes to improve its platform and the way we search. One that has stood out? The structure of ads.
Until recent years, Google really only had one option for search ads, expanded text ads (ETAs). In 2018, Google rolled out responsive search ads (RSAs). Responsive search ads allow advertisers the freedom to write up to 15 headlines and 4 descriptions. In doing so, Google shows the most relevant combination of headlines and descriptions to your customer based on their search.
Fast-forward to 2021, Google announces they are sunsetting expanded text ads (ETAs).
Dun dun dun.
So, ETAs are not completely going away, but as of June 2022, advertisers will not be able to add new ETAs or edit existing ETAs. Thus, responsive search ads rule the search, giving more opportunities to test messaging and improve performance through machine learning.
Not only have we seen changes to the structure of the ad, but also the extensions that are now available. The one we're most excited about? Image Extensions. Search ads are very text-heavy. How do you break through the word clutter? With images! Image extensions enhance your text ad on Google by making it visually appealing and engaging. Image extensions have so far proven to increase click-through-rate (CTR) compared to alternative ad extensions.
We're already utilizing these new features where appropriate to optimize our campaigns – and we're excited to see what enhancements are in store in 2022!
When it comes to UI/UX we looked no further than our Chief Web Development Officer, SEO, Analytics, Eric Procopio.
Many trends have emerged in 2021, but highlights of the most notable include:
Simplified Navigation

– Websites are moving away from the traditional top navigation bar and utilizing a mobile menu or hybrid approach for the desktop experience. This allows users to focus on the story being told on a given page and for the links provided within this story to have context.

Gradient Usage

– The use of gradients provides emphasis and more impact on selected elements.

Scrollytelling

– Storytelling with scroll-triggered animation is a method used to develop compelling stories through the use of animation and effects that a user can navigate through by scrolling the page.

Typography

– The use of strong typography sets the mood/tone of any UI. Some trending methods include Experimental Typography, Outline Typography, Solid Shadows, Disruptive Typography, Highlighted Type, Rounded Sans Serifs, and Gradient Typography.

Neomorphism

– The use of a monochromatic color scheme with low contrast and subtle shadows applied to design components is a method of enhancing a UI.

2D/3D Illustrations & Animation

– Illustrations and animation can be used to tell a story to avoid having the user read a lot of text. This is vital with the user's attention span dwindling.
These trending UI/UX trends are just a sample of what 2021 provided. We are excited to see what's in store for 2022!
Eric also commented on Analytics – because what better way to prepare and plan for the upcoming year than to analyze past events?
When we talk about analytics in 2021 and where we're going in 2022, we should be talking about the "user experience" and the increasing importance of the customer experience. That is why Google Analytics 4 provides an event-based model, instead of sessions, and the introduction of enhanced event measurement. With Google Analytics 4 gaining usage, we will have the tools to develop a deeper understanding of the customer journey.
That's a wrap, 2021!
Phew! There you have it, folks. Marketing trends for 2021. While our team always has a pulse on what's current, we're also learning, planning, and preparing for what's ahead to ensure we're on the bleeding edge of all things marketing. If you've set goals in 2022 and you're looking for a team to help you make them a reality, look no further. Let's collaborate. We are here to help you and your business stay ahead of the marketing trends! Let's write your story.
Emily Mertz

Digital Marketing Manager

Lover of Golden Retrievers, Chinese food, and all things Digital and Social Marketing, Emily is our Digital Marketing Manager. She appreciates brands with a great sense of purpose, and loves to tell their stories. With a diverse background, Emily's skill set allows her to wear multiple hats to support your brand.