Black Friday & Cyber Monday: A Shift From In-Store To Online

Gabriella Scharf
Director of Search
2 Min Read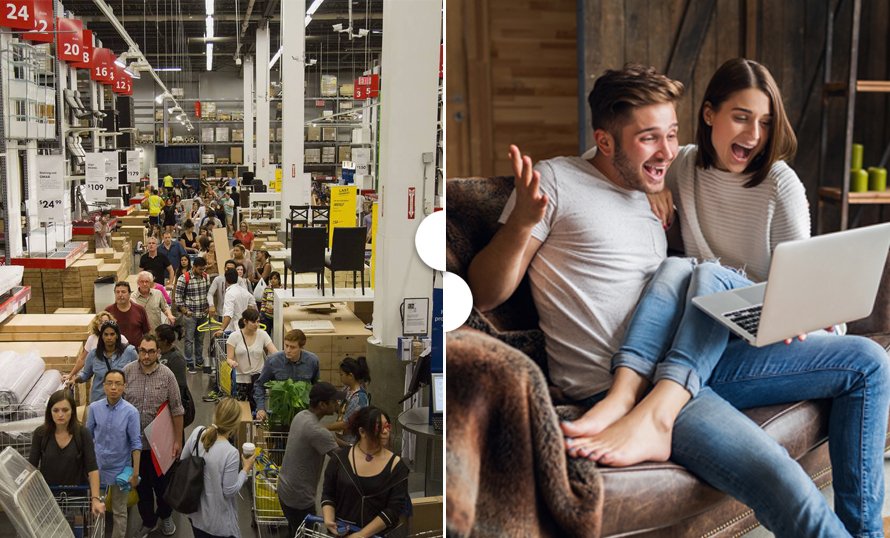 Black Friday and Cyber Monday. This is the time of year that every consumer and marketer eagerly waits for.
When we think about a Black Friday sales event, most of us imagine a line of 600 people standing outside of Wal-Mart at 3am, waiting to get their hands on a discounted 70-inch television or the latest and greatest video game console.
With consumers making the shift to online shopping, marketers have seen their customers make the drastic switch from shopping in-store to surfing deals online – post-turkey dinner, in the comfort of their pajamas.
This shift has been so significant that big box stores, such as Best Buy and Target will not be opening their stores on Thanksgiving Day this year. This is the first time in over 30 years that Wal-Mart will not be opened on Thanksgiving Day. Check out this list of all stores that will be closed on Thanksgiving Day.
A Look at 2019
In 2019, online retail sales increased a record-breaking, +334% on Black Friday, and +330% in sales on Cyber Monday.
People searching for the best deals grew +90%.
We can only expect to see these numbers increase in 2020.
In the past, shoppers have opted to shop online rather than brave in-store shopping, for a multitude of reasons. With the gift of the Internet, consumers no longer need to fight for a parking spot in a busy lot or stand in line outside in the cold. Aside from foregoing the battle of even entering the store, online-shopping offers different items at even bigger discounts.
With even more variety of product options available at the touch of the shoppers fingertips, it makes it easier for consumers to browse, research, and buy what they're looking for – at their leisure.
How Early Is Too Early To Start Marketing?

With all the hype around the discounted sales that Black Friday and Cyber Monday offer, one would assume that would be the time when most people take care of their holiday shopping. However, 42% of holiday shopping is already completed before the Black Friday and Cyber Monday events!
So, how early is too early to begin marketing for Black Friday and Cyber Monday? The simple answer? It's never too early. The Internet is saturated with competitors in all different verticals, such as big tech and gaming. You can, and should be, aligning your marketing messages with what consumers are looking for to ensure that you are getting out in front of the competition sooner rather than later.
Gabriella Scharf

Director of Search

Like you, Gabriella is constantly connected. When it comes to digital and traditional marketing she knows the value in reaching the right audience, with the right message, as quickly as possible. As a Senior Digital Marketing Manager she puts the power in the clients hands by getting customers to click, share, like and comment.